My name is Jason Wade and I am married to Julie, we live in Branston, near Lincoln. I have lived in Branston since 1994 and I have lived in the Lincoln area all my life. I was born in 1970, back in the time before mobile phones were invented!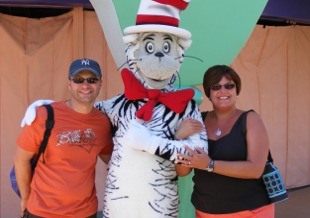 I am a patient, friendly and very considerate person, which carries on into my driving instruction.
I enjoy foreign travel and am a very active peson, who enjoys playing sports. I also am an avid follower of formula One racing, (although my driving in no way resembles Michael Schumacher.)
As you can see from the picture on left, while traveling I enjoy meeting new "people".(By the way my wife, Julie is on the right in the picture, and not in the middle!!).
The car you will be driving is a Hyundai Kona, fitted with a 1.0 litre petrol engine, which has been dual controlled for your safety. You will find it very easy to handle and fun to drive due to the seating position. Power Assisted Steering makes light work of manoeuvres, and the car is fitted with Air Conditioning which will keep you comfortable during the summer months. The car interior will always be clean, fresh and tidy and is a No Smoking zone.