Day of your test
The day of your driving test has arrived and it's only natural that as a learner driver you will feel nervous. Remember that your driving instructor is there to support you and would not have advised you to take your driving test if they did not feel you were ready. Most people prefer to have a driving lesson with their instructor an hour or so before the test, this not only helps to calm those "driving test day nerves" but gets you used to driving a car before the test commences. Your driving instructor will make sure you get to the test centre at least 10 minutes earlier than your driving test begins.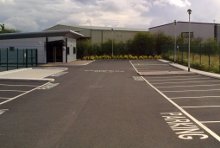 I have listed the top 10 reasons for failure on your test, follow this link to take you to this list:-Top 10 List
You must bring the following items with you to the test. If you don't, the Driving Standards Agency (DSA) may refuse to carry out the test and you may lose your fee.
Driving license (UK) which must be signed, make sure both parts are there too, so paper counterpart and photo card. Your driving license serves as identification and photographic proof. Please note that if you still have an old paper driving license you will need to bring a valid UK passport with you to prove your identity.
Pass certificate for your theory test. (This is not nessesary but is good to have in case of any disputes).
The test appointment letter from the DSA, confirming the date and time. (This is not nessesary but is good to have in case of any disputes).
When you get seated in the waiting room, try to remain calm. Your instructor will sit with you and will and try to help you with this, "and radiate positive thoughts". The examiner will then come out of the office and call your name, they will then introduce themselves, check all the relevent paperwork, and get you to sign a box confirming a few details.
Before you do any driving you'll be asked to perform an eyesight check and then be asked some vehicle safety questions, Show me/ Tell me.
You'll then be tested on your general driving ability, including one reversing exercise, and maybe the emergency Stop. During the test you will be ask to drive independently for 10 minutes, follow this link for further information, Independent driving
The 'Driving' part of your test will last about 35 minutes. Throughout the test your examiner will be looking for evidence you've reached an overall safe standard of driving, as you carry out both general and specific manoeuvres. You can make up to 15 minor driving faults and still pass the test, but 16 or more minor faults results in a fail. However, if you commit just one serious or dangerous fault, you'll fail the test automatically.
If you drive the way your instructor has taught you during the test you can have every confidence of passing, remember try to stay calm and follow the driving examiners instructions carefully.
After the practical test
When the driving test is over, the examiner will tell you whether you passed or failed. You can request feedback on your test from the examiner, who will then go through your performance during the test.
If you pass and have a photocard driving licence issued after 1 March 2004 the examiner will ask you if you want your full driving licence issued to you automatically. If you want to use this service, the examiner will take your old licence off you, scan the details and send them electronically to the Driver and Vehicle Licensing Agency (DVLA). You will then be given a pass certificate to prove you passed your test. DVLA will then send you your new full licence by post within four weeks of you passing your practical test. If you pass your test but do not want to use this automatic service, or have a licence issued before 1 March 2004, you will be given a pass certificate by the examiner. On the back of the pass certificate it tells you what you need to do next. This involves sending your licence and appropriate fee to DVLA who will then check your application and issue you with a new full licence.
If you fail the test you should ask the examiner for some feedback to help prepare yourself for your next test. The examiner will also ask if you would like you instructor present during the feedback, this can be a good idea, so they will be able to help on your next attempt. Your driving report form will also show you where you made any mistakes. You can take another practical test 10 working days after your car test.